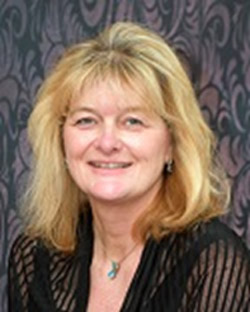 Rhonda Sappington, CN, ND
Sunshine & Dragonflies Naturopathy, LLC
1887 South First Street, West Branch MI 48661
Class of 2018
Rhonda Sappington came to the Naturopathic Institute not quite sure that she would make it through the first year: time constraints, a busy life with a family business, but still thinking that there was something different for her to accomplish! This is her story that is not unlike many of the Naturopathic students' stories.
Rhonda Sappington was your typical student starting out in a new program. After investing in purpose driven life books and taking classes at Dr. Jan Doerr's office (Health Naturally, Bay City, MI) where she learned more about natural health and therapies, she kept learning and hearing bits and pieces about the Institute as well. After one such class at Dr. Doerr's, Rhonda left with a sense of peace and purpose knowing that something very deep inside her had changed. When she woke up the next morning, she promptly called the Institute, and that's where it all began!
Rhonda says that the Institute chose her. She fell in love with the energy of the school, the people and the instructors. She feels that she received the best education you can get in this industry, and it shows. Her experiences at the Institute did not come without challenges, personal, familial and socially. But her support system and drive to succeed pushed her through to the end earning her diploma as a Certified Naturopath, and successfully passing the National Exam and earning her ND – Board Certified Traditional Naturopathic Doctor.
As an alumnus of the program, Dr. Sappington has accomplished a lot in just a short time. Of course, the program allows for students to start building a clientele while taking classes. She experienced no difficulty in getting established. She was building her clientele from first year and she was able to work with more like-minded people like the local chiropractor, massage therapists, and now, a local Physicians Assistant that refers clients to her. Social media and word of mouth are her best advertisers.
While at the Institute, Rhonda found other interests. Since graduation, Rhonda has taken genetics, allergy correction and more herbology classes. Rhonda plans on expanding her West Branch office to include a salt room, various other healing equipment, and maybe even a homeopathic pharmacy. She currently has consultation rooms and a massage therapist practicing with her.
Being a Board Certified Traditional Naturopathic Doctor has affected her life in so many ways. Her purpose is more direct. Her thoughts are much clearer than in the past. While at the Institute, she had to learn to take the stones being thrown at her and use them to build her empire. Rhonda learned to pause, breathe and then, respond without over-reacting. She learned how to manifest what she wanted, and both her and her husband are putting all their attention on this new wellness center.
From the very first class at the Institute, Rhonda found that this school is the real deal. The teaching style really worked with her learning style, and it piqued her interest even more so that she kept going. Her clients kept her going as well. Whatever she may have thought it was going to be, it surely exceeded her expectations. The life experience, self-discovery and gratitude that comes from this education isn't something you expect. You change, and everything else seems to follow.
Rhonda's advice to a new student is as simple as this:
Don't fight the system
Everything is put into place for a reason
Do Your Homework!
Teach your classes with the intention of growing your business not just because it is your homework. Teaching classes requires you to stand up for what you believe, have confidence in what you're talking about. Just get it done – don't put it off.
Be open to changing yourself
Be ready for growth
Keep an open mind
Be very prepared for relationships to change and embrace it
It's a great time to be a Naturopath. The public voices are being heard, and their feet are doing the voting every time they march into one of our offices.
Never back down. Believe in yourself
It's still an education, long after you graduate
An 'aha' moment happened just recently for Rhonda:
All through school my greatest goal has been to bridge the gap between medicine and naturopathy. I tried to get my medical internship hours with a PA who was very open to more holistic options. We had a really good conversation, and she was so excited to have me intern with her; but, Mid-Michigan Medical shut me down. Fast forward one year; I finally made an appointment with the same PA to have some blood work done. She walked into the room with another PA. They both looked at each other and smiled and said, IT'S HER! Lol. I'm like, who? You are the ND that opened a wellness clinic in town, and we are so excited! I talked to them about homeopathy and told them phase two will be a homeopathic pharmacy. Their eyes got so big. "You are going to open a homeopathic pharmacy?" "Yes, I am!" I replied.
The nurse from the PA office called. She said they would like to have a stack of my business cards on hand. I immediately ran my cards to them at Mid-Michigan Medical. The PA, herself, met me behind the side door and told me she is sending people to me.
Times are changing folks. Bridging the gap between medicine and Naturopathy one PA at a time. Because Naturopathy ROCKS!! I've said this since my first year at NITE. It's a GREAT time to be a Naturopath. Whatever you might be going through right now, remember this story, because this is coming to a town near you…. SOON!! If not already.