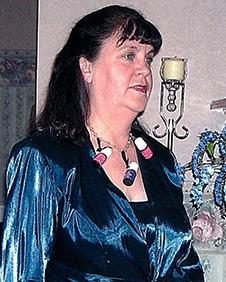 Dr. Jan Doerr
Fall Conference 1998 — a state convention I will never forget. I shared the stage that day with a speaker on aromatherapy from Mt. Pleasant, MI. LIttle did I know; my life was about to change forever.
The speaker was Dr. Bessheen Baker and as she went up and down the aisles spraying essential oils I found it difficult to breathe. I had to leave the convention room and find some fresh air. At the time I was wondering what was happening to me! I wasn't familiar with "Healing Crisis" as I was still employed in the medical world so to speak.
I projectile vomited colors I had never seen before, or since! Then I got angry!! What did this woman do to me and how she had no right in my mind to have done it to me in the first place. I got online and started researching essential oils daily.
After 2 years of researching and compiling data I learned that "that woman" had a school in Mt. Pleasant, the Naturopathic Institute of Therapies and Education. I immediately enrolled for the Beginning Essential Oil class. One class led to another and I became a full-time student again; and I've never left.
I realized that Dr. Baker didn't do anything to me, if anything I needed to be grateful for her discovery of my very weak liver. I was told it was only functioning about 7-8 % and I had about a year to live. The only prescription medication I was on was for migraine headaches. It was destroying my liver! I quit the medication and Dr. Baker taught me how to rebuild my liver naturally and how to handle the migraines naturally as well.
During my Junior year at NITE, the national test was withdrawn as an option to obtain the naturopathic doctor title ( it was reinstated years later).At this point I took my masters from Central Michigan University and course work from NITE and transferred to Clayton College of Natural Health. In 2005 I completed my degree and earned a Doctor of Naturopathy where I graduated with Honors.
Dr. Baker approached me two weeks later at NITE and asked if I had graduated yet? WhenI said yes, she asked if I would consider teaching at NITE? SInce I had 10 years of teaching experience from Saginaw Valley State University and Central MIchigan University, I instantly said yes. I love to teach! I was given the Advanced Essential Oils Class and later offered the Beginning Essential Oils Class too.
I own my own natural health business entitled: Health, Naturally! where I am approaching my 20th year in my Bay City business. I now work with 10 amazing ladies from various aspects of natural health. Locally, in Bay City I was selected as "Doctor of the Year" for 2020. I feel that we are starting to get the respect for our role in health care. Watching our clients learn and improve their own health is very satisfying. I can't wait to get to work each and every day.
On a personal note, I was born in New Orleans, Louisiana and moved to Hale, MIchigan when I was a baby. My three sisters and myself were raised on a farm and I learned to love the country. My husband, Tom and I raised three amazing sons and have recently become empty-nesters. You know what that means? More room and time for essential oils!
I am now retired after 40 years as a Therapy Manager in a hospital setting. As I continue to work at Health, Naturally! I anticipate seeing clients and doing multiple essential oil treatments. During the coming year I will be creating my own line of essential oil products from my store. I will continue to teach for as long as Dr. Baker will have me. 🙂 See you in class!
Sadly, we lost Jan Doerr this past November. Read about her legacy here: https://www.gephartfuneralhome.com/obituaries/Janice-Pember-Doerr/#!/TributeWall