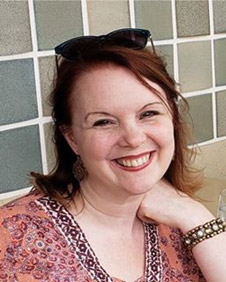 Dr. Rebecca Culley-Healey, ND
Hawthorn & Violet Naturopathy
1024 N. Leroy, Fenton, MI 48430
810-569-682
Meet Dr. Culley-Healey, Class of 2017. Here's her story about where she started and how far she has come as a result of her education and completion of the four-year natural health program from the Naturopathic Institute of Therapies and Education
I grew up in Berkley, Michigan, and graduated from the same high school my mother and grandmother graduated from. I was lucky enough to win a full academic scholarship to Ball State University in Muncie, Indiana, spent five years getting a bachelor's degree in genetics, with minors in psychology and women's studies. During my fourth year, I spent a semester studying abroad in Sweden. While there, I met my husband, Pete, who was also an exchange student from England. We married two years later and have three children together, Oliver (19), Lilia (16) and Rosemary (12).
I was a stay-at-home mom until Rosie was four and I returned to studies at the Naturopathic Institute of Therapies and Education (NITE). As a stay-at-home mom, I felt compelled to serve my community in various ways, including starting a local chapter of La Leche League, a breastfeeding support group for new moms. (My mom was a leader back in the 70's/80's too, so I'm second generation), and serving on the board of our local community garden. I really love to garden. I am happiest when amongst the flowers and herbs.
Rebecca's decision to become a natural health practitioner was a gradual process. Being involved with the La Leche League was her first real exposure to lots of alternative ideas about natural health and immunity. And then, after the passing of her dad of cancer less than two months after his diagnosis, it gutted her to the core. She was dismayed not only by the loss of her dad, but also by a system she saw as inefficient, heartless and ineffective. Even if she had been able to save her dad, she was horrified by the state of our medical system, and the lack of humanity that was granted to patients.
Her story continues: A few months after dad's passing, our La Leche League group hosted a guest speaker talking about herbs. During that 45-minute talk, I knew I had found something that resonated with me in a way that nothing had in a long time, and I knew I needed to learn more. I took Dr. Sikora's Urban Herbalism course in Flint and wanted more. Dr. Sikora introduced me to the Naturopathic Institute.
I think learning from Dr. Sikora before I even visited the school is what really set everything in motion. I knew before my first visit that I wanted what the school had to offer. Once I visited, I could see that it was a place that could teach me a lot. Just being there felt right. I was impressed with Herbs Etc, the products and retail store also housed within the building. It was much different than my local health food store. I also met Dr. Baker, the owner and founder of the school, and I could tell she had a lot to teach me in the maybe 30 seconds we interacted.
Since graduating from the Institute, I have been seeing clients in Fenton. I delved into some deeper genetics work after studying with Dr. Jackie Featherly and learned how to do SWAMI, which is the Blood-type Diet, layered with genetics and epigenetics. (Epigenetics was the topic of my senior dissertation at the Institute).
My husband is a therapist with a private practice, so it made sense for us to work out of the same building. We bought our building shortly after I graduated in 2017 and we added on an addition to the building in 2018. I opened an herbal apothecary in 2019. I love scooping out herbs and blending teas for folks. I love inviting folks to sniff the jar of lavender I just opened. I love ordering new and interesting items for them and arranging them in the shop. I love searching out medicinal plants in the spring to sell at my shop for those who love to grow things as much as I do.
But one of the most unexpected aspects that I didn't know I'd love so much is teaching. I host many classes at my apothecary, which I think is helpful for outreach in the community. What's the point of selling 200 herbs in a community if no one knows how to use them? I love our Friday evening and Saturday morning classes, especially those about herbs. I think my favorite might be taking folks on herb walks through our local Nature Preserve and helping to alleviate the green blindness our culture suffers and introducing them by name to valuable plant allies.
When I first had to teach classes for homework at the Institute, my voice shook as I stood before my friends and family in my own living room! Now, I am invited to give lectures to groups including the Michigan Association of Alcoholism and Drug Abuse Counselors, Union of Auto Workers Employee Assistance Program professionals, garden clubs (to talk about why they should keep their weeds and how to make them into medicine!) and others. And I love it.
There were some roadblocks and challenges in getting the business started. I will be the first to own up to the fact that I am terrible at marketing and promoting myself, especially in person. I find it really difficult to walk into a place and introduce myself and leave cards. (I've done it some, but it leaves me squirming). I have found it easier to use social media to do some of the marketing (and that works incredibly well) but I know that I really "need" to go shake hands with some of the Chamber of Commerce folks, and local yoga studios, and chiropractors, etc. As a result, my shop is busier than my naturopathic practice.
I have received so much support from folks who come into my store and thank me for opening it. Having a place to buy high quality bulk organic herbs is rare in most any community. Many herbalists would rather make an hour drive to go pick up what they need than go through the process of ordering online. This has made for some loyal customers, who are willing to travel to me. Once they get into the shop, many times they are happy to buy other things as well.
I have to say that Facebook and Instagram have been a surprisingly helpful tool to help get my message out into my community. Sometimes people come into my store for the first time but tell me they've been following me since the beginning.
I also had a great support system. I was able to stick with my class, which I know not everyone is able to do. But the women I graduated with were a wonderful support group, and I enjoyed their camaraderie, their insights, their different talents, which left me in awe. Some are intense intellectuals, and some have insights into emotion and energetics. Some are so talented with touch and just know how to move the body to bring comfort and healing. Some know how to work on a macro level, using formation of community for healing. I don't see them often enough today and wish I could see them more!
The Naturopathic Institute provided a good liberal arts foundation for natural health, but as I was attending classes I realized I wanted to dig a little deeper into herbology. During my junior year of the program, I decided to simultaneously take a four-season herbal intensive training course with Jim McDonald. It was one weekend a month for nine months, one day of which was spent in the classroom, and one day was spent in the field getting to know plants face to face. It was amazing.
When I started the school, I was at a natural turning point in my life. I never saw myself as a business owner or an entrepreneur before going to the school. I'm not sure what my expectations were upon entering the school were, but being self-employed has a lot of benefits. For me, I think working for an employer could have been a bit more chafing than what I have now!
When I started school, I wanted to somehow osmotically absorb everything, and hoped when I graduated, I'd know it all. That definitely didn't happen, but I feel like I have an awareness thing that maybe I didn't consider before. I think I have an awareness of where my strengths lie, and that I can refer to people who have other strengths, outside of my area of focus when it seems necessary. We are taught to recognize that healing and imbalance occur not only on the physical, but also the emotional, mental and etheric levels. If homeopathy for example is not my strength at this point in my studies, I have enough respect and understanding of the practice to recognize that sometimes that might be the best modality and have some resources (be that books or other practitioners) to turn to. In other words, we are perpetual learners in our observations of health, balance and re-balancing. We don't have to know it all, all at once. We can have our areas of specialty and rely on other members of the natural health community for guidance. We don't have to know it all if we know how to access our resources.
While in school, I experienced many 'aha' moments. Every weekend I came home with new changes we needed to make. I discovered not all of them fit my life or made me healthier though, so eventually, I had to let some of them go. I had to learn that I should take what fits and leave the rest behind.
Dr. Culley-Healey's outlook for the future is bright: I would like to see my store continue to become more well known in my community. I'd love for herbalists within a 2-hour radius to all know I'm here. I'm still in the stage where people are just learning about me and asking when I opened because they weren't aware, I was there. I'd also like to see a little community mecca in my area develop with people who are more herb savvy because I've helped to shift my local culture a little bit.
I'd also like to get to a place where I can afford to hire full time staff so that I can spend the time seeing clients, and have other folks run the store (at least part of the time!). I'd also like to develop more tea blends (Calmly Present and Memory Mint Medley are two popular ones), and other herbal blends like Fire Ciders and other medicinal herbal products. I'd like to get to a place where I can formulate tinctures for clients, but that is a little more complicated with getting FDA approval for labels and manufacturers good practices standards. I'll get there.
Her decision to become a Board Certified traditional Naturopathic Doctor pushed her to becoming what she is today. On a more practical level, having that certification made it possible to become a wholesale supplier for many of the companies whose products can be sold in the store. She wouldn't have jumped into opening a store or had the knowledge base or confidence to share natural health information with her community without it.
Dr. Culley-Healy's best advice to students is:
As a new student, I wanted to know everything at once. Patiently trusting the process is difficult when you want to absorb everything at once.
Setting a really solid foundation with first year classes helps create the framework that makes the more advanced classes something you can grasp.
Keeping up on homework month to month is a smart way to go. Turning in last month's homework at the beginning of next month's classes is better than getting 2 months behind. Doing homework while the class is fresh in your mind is more beneficial than when you've just taken another class.
I also learned that once I started charging a nominal fee for my classes, I had an easier time getting people to show up. If people invest, they turn up when they say they will. It's a nice perk.
I'd also suggest following your interests.
What will help you to thrive and stand out as an excellent naturopath comes only from within. If you find you are absolutely fascinated by a single aspect, dig deep into that area. Consider making it the subject at the end of year dissertation.
These are the things that will best serve you once you're out on your own.